Jay Diego Update - 4/8/99
---
Here is a photo shot from a match I had for TWA in Arp, TX on March 12th. Dylan Summers - "The Necro Butcher", knocked the living spit out of me with the ring bell and a gash opened on the back of my head. Sweet. If it wasn't for the blood, you'd never see the two of us this friendly, but he was so proud of the gash he opened on me, he wanted a picture after the match.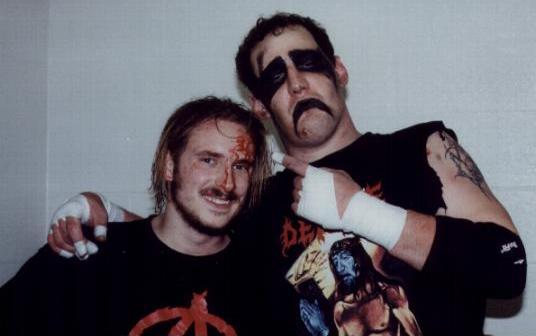 I won the Texas Outlaw Promotions cruiserweight championship this past Saturday night (3/27). It was a 6-man elimination match... Samir vs. Diego vs. Corman vs. Wright vs. Kincaid vs. Burnette. I pinned Samir with the fisherman buster and defeated Joey Corman with the ground octopus hold in the final.
This is my second title, (PPWF Jr. champ in '97) and I really enjoyed working with those guys.. they are some of the very best in TX. Anyway...Sugar and I are doing great, aside from a speeding ticket here and there.. and the fact that we almost hit the biggest cow I've ever seen on our way back from Gatesville. It was an interesting weekend and I just wanted to fill you in. Keep in touch and God bless.
Also, here's my latest promotional photo.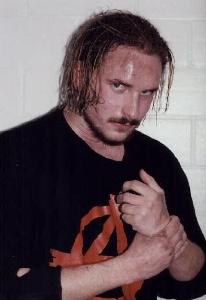 ---
Back to The Jay Diego Homepage