Jay Diego Update - 5/11/99
5/11/99:
When we last left our hero........
Sugar and I just got back from Altoona, PA...ugh.. 23 hours in a Hyundai.
Nothing major going down up north.. just visiting a jobber, er.. friend. The 5/5 MSPW show in Nacogdoches was pretty swingin'. My match for the card was altered... I teamed with Spike Dudley vs. Reckless Youth/Mike Quackenbush.
All three men are some of the finest athletes you'd ever want to step into a ring with... and I took the loss when I was lifted onto Quack's shoulders and sent to the mat via a top rope Ace Crusher by Reckless. Oh, but that's not all kids... not by any means. Who do you think the ref was on this particular evening? That's right... James Beard. It was the first time I'd seen the guy since he screwed me out of my life savings. To make a long story short... there he is with his buddies: One Man Gang and Rod Price, niether of whom do I have a problem with... and here's ol' Jay... MAIN EVENT!!!! He thought I'd dropped off the face of the earth. We didn't speak a word to each other, but after the match he shook my hand and gave me some kind of a wink. Thanks for the memories James.. see you in hell.
Ahh.... now that I've had a chance to vent.. may I take the time once again to thank Bill and all of the readers of this column. I appreciate the support. The chick and I are pretty much booked clear through 1999, and I couldn't be happier. You guys get out there to these indy shows and help guys like me to make payments on our cars... after all... I practically live in mine. God bless.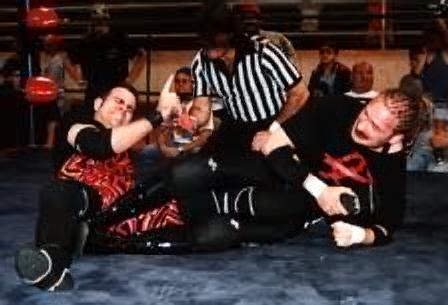 P.S. Don't forget to check out the next MSPW show in Lufkin, TX at the Lufkin Civic Center on Friday, June 18th. Bell time is 7:30.. and I will team with Joey Corman to face Reckless and Quack once again.
---
Back to The Jay Diego Homepage