Jay Diego Update - 7/6/99
Artwork by my friend Greg Wilson in Louisiana
On 6/5/99, Sugar and I made our debut in Ambridge, PA. In a three-way elimination match to decide the vacant cruiserweight championship of the Regional Wrestling Commission, I faced Canadian independent stars "Sexy Baby" Jamie Jackson and L'Artiste. Once Jackson had been eliminated, Sugar jumped up on the apron to.. um.. distract L'Artiste.. who I consequently sweeped up in the fisherman buster for the win. This is my third championship, and I'm not sure about defenses... but I'll keep tabs on everything. Undisputed for now... woo hoo!!
On 6/12.. we debuted in Mountain Home, Ark. for Southeast Championship Wrestling. I lost out to Dexter Hardaway after Sugar's interference backfired... but hell... she got an 'E' for effort. The following night, 6/13, we hit Plaquemine, LA for Deep South Wrestling's debut show. I was downed by Guido Buddafuco after his half-bred partner slipped a briefcase into the ring... you can imagine what happened next. Old school stuff, no? The crowd was great that night.. and I appreciate the support. I love you people.
6/18 was MSPW's third show. This time, in Lufkin, TX... we saw Reckless Youth and Mike Quackenbush face off against myself and Joey Corman. After so many high spots I could barely see straight... Corman and I got the ace following interference by Julio Sanchez. (Lot's of scandalous cheatin' goin' down lately) Once again.. I'd like to thank Reckless and Quack for a hell of a match. We carried your asses. ;)
I was able to team with that crazy bastard we all know and love.. the Necro Butcher.. on 6/25 for TWA. As we've done many times in the past... we lit up the Lufkin Civic Center with a blaze of mindless hardcore.
Our victims were Major Pain and Big John Murder, whom we refer to as simply.. John Murdiddlyurdler. Once the Butcher sent Pain through a table with the frog splash.. I nailed him with the diving headbutt.. onto a chair for the 3-count. Where was Murdiddlyurdler as his partner was destroyed? Who cares....tag the toe. HAHAHAHAHA!
Good grief... this is the first chance I've had to chill in some time. I've come to terms with the fact that our lives will be hectic untill we hit that big show in the sky... and I dig every minute of it. Our bookings continue... every weekend filled with bumps and minimal pay..... beats workin' at Wal-Mart.. eh, Cleetus?
Ya'll be good now... God bless and keep tokin'!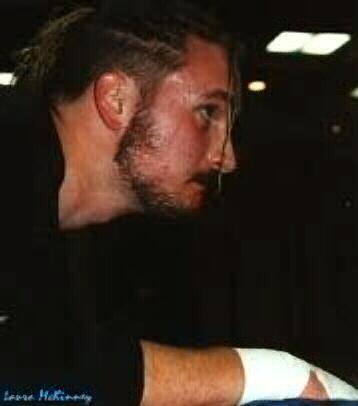 ---
Back to The Jay Diego Homepage