Jay Diego Update: 8/15/99 - 8/29/99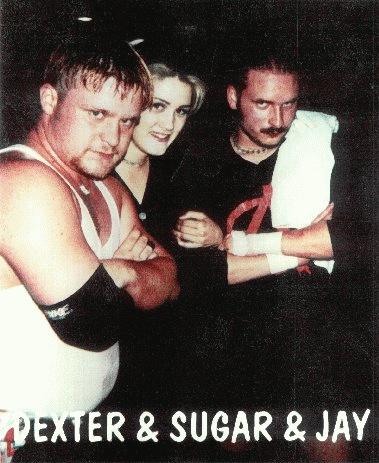 NC-17
8/15... NC-17 rolled one in Dallas for some lucha promotion that I couldn't remember the name of had I tattoed it on my ass. Up against the team of Chip Riggs and Joey Corman, Dexter and I stunned the crowd with technical brilliance and our remarkable ability to speak English. One risk too many resulted in a loss as I found myself on the receiving end of Corman's 450.
8/18... BBOW: Billings, MO... In a mixed tag straight out of some depression era carnival attraction, Sugar teamed with popular midget competitor "Beautiful Bobby" to take on Melissa and the mini martial artist "Little Kato". The match went back and forth with no clear advantage until a miscalculation by the opposing team resulted in another win for the one and only Sugar. (2-0) The same night, I took on Dexter Hardaway.. partner vs. partner. I tried everything.. Kabuki mist, low blows... I even hid under the ring! The sumbitch pinned me.. end of story.. leave me alone.
8/28... Huntsville, TX... I took on the TWA cruiserweight champion, a straight-edge vegan by the name of Samir. (the boy don't eat meat, the boy don't drink.. I'm surprised he even wears pants) None the less... having laid him out with the fisherman buster, I reached into the crotch of my tights to reveal a banana-flavored condom. Placing it over my middle fingers, I then applied the mandible claw. I guess I was lost in the moment, because the time limit expired before I was able to cover the man. En route to the dressing room, I threw the condom in the face of TWA figurehead.. and resident suit.. Jeremy Chance. A good time was had by all.
8/29... New Age Wrestling's debut show.. Tyler, TX.. some dude's backyard. Under the blazing sun, in 100+ degree heat... I faced off against my own partner yet again. Can I help it if our match is in demand? Anywho.. we fought all over the place, crashing into fences.. bouncing soccer balls off each other's heads.. hell, we even did some stuff in the ring! 15 minute.. time limit draw.. and a partridge in a pear tree.
Thus concludes another edition of Jay Diego's "Wacky Adventures in Wrasslin".. thank you for joining us. As always.. God bless and keep on tokin'!
---
Back to The Jay Diego Homepage