Jay Diego Update: 9/11/99 - 3/9/00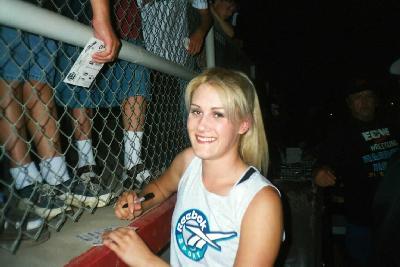 Click the above picture to go to a Sugar fan page.
(Sugar Profile, History, and Pictures by NME)
9/11... Lufkin, TX... Another loss to Dexter Hardaway.. and isn't life grand? After I was laid out by his version of Misawa's "Emerald Implosion", Dex grabbed the mic and brought something to my attention, and the crowd's that had been running through my mind all along. We are the best tag team in TX.. why are we always pitted against each other? Simple answer... every other duo on the circuit is afraid we'll out class, out perform, out smoke, out wit and overshadow their minuscule attempts at success. Do I sound frustrated?
9/12... Deep South Wrestling. The next night I find myself in Denhum Springs, LA in front of a large crowd.. and working in a ring that's barely fit to stand in. It had collapsed during the second match. (That'll learn 'em to hire a ring crew that no doubt smuggled themselves across the border in a van.)
None the less, my opponent this evening was Ky-ote.. a Native-American veteran better known in past years as Johnny "Dog with no eyes"... or something like that.
After brawling all over the building for fear that any move in the ring may spell our demise, I fell prey to... hell... I don't even remember what it was. I lost.
11/21... DSW.. Port Allen, LA. Teaming with Dexter, and the sexy submission machine known as Sugar.. I stood across from Scott Patrick, Jared Steele, and Melissa in a mixed 6-person. In a match that included a lot of mindless aerial work.. including Sugar's blonde bomb plancha to the floor.. our counterparts couldn't hold it together. The chick took care of Patrick with a low blow while Dex and I laid Steele out with the Powerbomb/Neckbreaker combo for the win.
12/31/99... I don't remember.
3/9/00... I'm still alive, so hang in there, kids. God bless and keep tokin'!
---
Back to The Jay Diego Homepage