DVD Review: Bret "Hitman" Hart - The Best There Is, The Best There Was, The Best There Ever Will Be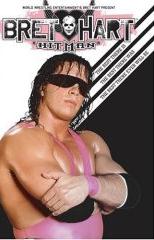 This DVD was interesting. It was very well-produced, but there are some odd things about it that aren't immediately obvious. Most notably, all of the clips of Bret Hart produced specifically for the DVD are of Bret Hart sitting there in an interview chair. Very different than, say, the Eddie Guerrero video where there are segments filmed at various venues. Reading between the lines, it says that Bret did not invest large amounts of his own time towards this DVD set. He sat down in a chair for a day or two, did the interviews, and was done with it. That being said, his interview segments are really good, and seemingly very heartfelt, so the observation may be nitpicking, but I found that interesting.
Likewise, so much of the stuff filmed for the DVD was just Bret sitting there talking, along with a few clips from people who were employed by the WWE at the time this was produced (2005). You hear from Vince McMahon, Animal, Gene Okerlund, Steve Lombardi, etc. However, you don't hear from anyone who was not working for WWE at the time. There are people that were such a major part of Hart's career, that he talks about over and over again, that are not interviewed for the DVD (e.g. Jimmy Hart, Jim "The Anvil " Neidhart, members of Bret Hart's family).
Really, the most notable thing about this DVD is that it's a DVD about Bret Hart's career. It is not about his life. In the extras, there is a "family tree" section, where he goes through and gives a sentence or two about each sibling and his parents. However, he doesn't talk about his home life at all. His kids are only mentioned in passing, his first wife who was with him through just about his entire career isn't even mentioned once, and his new wife is shown in one photo and isn't even mentioned by name. Nothing about the schisms in his family, most notably with his sister Diana and brother-in-law Davey Boy Smith, is even mentioned. So, if you are interested in his career, you will find it worthwhile. If you want to know anything about Bret Hart's outside the ring, you will be very disappointed.
Some other observations I had:
As per my earlier comments, there are no interviews with anyone prior to Bret Hart's WWE days, and absolutely no interviews with anyone not currently working for the WWE. It's a little weird especially since there were a lot of really cool clips from his earliest days in Stampede Wrestling when he was really skinny. It's also weird because of the people thrown in, such as Animal from the Road Warriors and Edge, to give multiple interview clips to fill out the DVD when they really didn't play a significant part in Bret's career.
Wrestlers and fans alike constantly harp on the fact that Jim Neidhart couldn't work worth a damn. Maybe that's true, but back in the early days of The Hart Foundation, he could give a hell of a standing dropkick.
Bret gives a really good insight to a number of injuries he suffered during his big matches, and the producers of the DVD do a good job showing them in the actual clips of the matches.
I may have been seeing something that wasn't there, but Bret Hart makes a big deal out of his win at King Of The Ring in 1993. He notes that he had three great matches that night, and all three matches were very different. I wonder if that's a shot at his critics, both fans and wrestlers alike, that say he always wrestles the same match. (i.e. "The Five Moves Of Doom")
Bret Hart isn't exactly a fan of Hulk Hogan, in any way, shape or form. While Bret obviously is no fan of Shawn Michaels either, Bret does at least give Michaels props for his wrestling ability and the effort he put into his matches. No so with Hogan.
I found it funny that Roddy Piper said that Hart was "the first person to pin him in 17 years". That's definitely a lie, because I saw Ric Flair pin Piper at a WWF house show a few years earlier.
Bret Hart has only kind things to say about Ric Flair, whereas Ric Flair hasn't been so complimentary about Bret Hart recently. Notably, Ric Flair has been quoted as saying "I consider Bret Hart a great wrestler, but I don't consider him a great champion."
There was a bit of a flashback to the Eddie Guerrero DVD, where I noticed that for the hair vs. mask match, less than 15 years later, all three people from the rudo team were dead. I realized that with the New Hart Foundation from less than 15 years ago, three out of the five people in the group (Pillman, Davey Boy Smith, Owen Hart) are dead. Only Bret Hart and Jim Neidhart survive.
The first few matches have some really "old school" announcers, with Gorilla Monsoon and Lord Alfred Hayes. Gorilla is particularly funny to listen to, but hearing them complaining about the referee not doing his job and Jimmy Hart's megaphone gets old after a while. Likewise, when Vince McMahon is doing the announcing, you get a little tired of him apparently having no memory whatsoever, acting like he's never seen a wrestler ever do something that he is known for (e.g. Bret Hart giving his sunglasses to a kid before a match).
The fourth match of the DVD, Bret Hart vs. Ted DiBiase from WWF Wrestling Challenge, was fascinating because there were no announcers for the match. The only soundtrack was what was going on in the ring. It was pretty cool, actually. You get to hear the referee calling for breaks, and at one point you can hear DiBiase call a clothesline. Right before the end, twice you can hear the referee announcing "Let's go home, guys".
Bret Hart personally picked all the matches. So, as you might expect, the Montreal double-cross is not on the DVD, nor or any of his other one-on-one matches with Shawn Michaels. The only place Michaels appears in the extras is in a match between The Hart Foundation and The Rockers.
A funny thing about Bret Hart picking all the matches... he didn't pick them because he won them.
Trying to do a crucifix a second time in a Bret Hart match is like trying to powerbomb Kidman... it never works.
Diana Hart Smith went to the Miss Elizabeth school of acting.
In the second Hart/Hennig match on the DVD, it is so obvious how Hennig positions himself to walk right into Bret Hart's offensive moves.
I personally found this DVD interesting and enjoyable for two reasons, which may or may not be applicable to you. First, I knew absolutely nothing about Bret's career pre-WWF, so that part was cool for me to see. Secondly, his big years in the WWF as a singles wrestler and as part of The New Hart Foundation were a period of time where I wasn't following the WWF at all. So a lot of that was really cool for me to see, and it filled in a lot of gaps for me. But, like I said earlier, if you are looking for this to be a "shoot" DVD, especially about his personal life, you're wasting your money.
As of June 2007, this DVD can be purchased new for $27.99 on Amazon.
---