The DDT Digest Online Guide to Lodi and Lodi Signs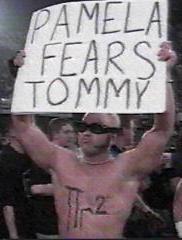 Lodi is the member of Raven's Flock with the blonde hair, shiny pants and infamous signs. He debuted in World Championship Wrestling (WCW) on 11/23/97 at the World War III pay-per- view. He had his first match at WCW against Chris Benoit on the 12/08/97 Nitro, getting squashed. He has remained as the Flock's punching bag and human billboard ever since. The format of this Lodi commentary will consist of general information on Lodi, a review of his signs, a list of fan's signs about Lodi that have appeared on camera and conclude with various reviews of Lodi matches.
Lodi wrestled previously on the independent circuit under derivations of his real name, Brad Cain. The names he used were Brad Kane and Razen Cain. He also teamed with his roommate Toad as one-half of a tag team known as Dangerous Minds. Both members of the team spent several months at the Power Plant before Lodi entered WCW.
The Dangerous Minds tag team took its name from the 1995 movie of the same title. The movie featured Michelle Pfeiffer as teacher/ex-marine Louanne Johnson. In the film, Johnson accepts a full-time job at a Los Angeles high school without realizing that the students in her class are brilliant, but with intense social deficiencies. The movie is perhaps best remembered for its soundtrack highlighted by Coolio's song "Gangsta's Paradise."
Lodi could not use the Cain name in WCW because the World Wrestling Federation (WWF) had already debuted Glen Jacobs as Kane on the 06/30/97 Monday Night Raw and Jacobs was over by the time Lodi appeared. The WWF actually chose the name of Kane because he was "raised" from the dead. Thus "Razen Cain" would not have worked since another wrestler was already over using a name derived derived from the same narrative as "Razen Cain." Lodi actually would have had more right to the name because he had used it earlier and it was taken from his given name, though it is doubtful the public would see it that way.
The character's name was originally slated to be "Skank." Though the name "Skank" was never used on WCW television this name was prominently reported in the sheets and was confirmed by Billy Kidman during WCW's IRC chat during the World War III pay-per-view (11/23/97).
His name may have been changed because an independent wrestler had used the moniker for at least two years as a member of the tag team the Grungers. At the time of Lodi's debut, Skank was the House of Pain Wrestling Federation (HoPWF) champion and had defended his championship on 12/02/97, just six days prior to WCW christening the name "Lodi" on an episode of WCW Monday Nitro. For more info on Grunger Skank, the NWL has a profile on their site at http://www.nwlwrestling.com/nwl_skan k.html.
Why the name Lodi? When Lodi debuted, numerous comparisons were made between his appearance and that of 80's pop star Billy Idol, known for his white spiky hair and sneer. Lodi is Idol spelled backwards. Idol, whose official website is located at http://www.billyidol.com/, scored hits with "Mony Mony," "Dancing With Myself," "White Wedding," "Rebel Yell," and "Cradle of Love." More recently, he played himself in the Adam Sandler movie The Wedding Singer, which debuted on 02/13/98. Ironically, Lodi made his WCW debut within a week of Idol's birthday (11/30/55).
The inverse spelling is noteworthy because it has been a staple of Kevin Sullivan booking for over a decade. In the early 1980's Sullivan was a prominent babyface in the Florida territory. He turned heel on Mike Graham by sending him threatening notes under the alias of Nivek Navillus. It was later revealed that Nivek Navillus was Kevin Sullivan spelled backwards. As recently as 1995, Sullivan gave his worked brother Dave the name "Evad" as Sullivan brought back the Navillus gimmick in WCW.
In addition to being an anagram, Lodi is also a pun for "loadie." This is a slang term for a person who is regularly drunk or high. This is in connection with the nonconformist image of Raven's Nest. Scott Vick's character name "Sick Boy" was also derived from a drug-related reference. The name was taken from the 1996 movie Trainspotting. The plot focuses around Mark Renton's attempt to renounce his heroin habit and its effect on relationships with family and friends including Simon David "Sick Boy" Williamson (played by Jonny Lee Miller). Lodi and Sick Boy are the only members of the Flock to have their careers essentially begin in the faction and this is why their ring names are more reflective of their positions in it. Incidentally Sick Boy, like Lodi, did not receive his name immediately. He was originally scheduled to be called "Sick" Scott Vick due to the rhyme involved. Like "Skank," the name never materialized on the air. Vick debuted on the 10/13/97 Nitro from Tampa but it was not until the 11/10/97 Nitro that Sick Boy was unveiled.
The name Lodi may also be a WCW aspersion directed at the WWF's Ken Shamrock. Eric Bischoff has long thought that Vince McMahon ineffectively used Shamrock when he arrived in the WWF and in many ways modeled the Bill Goldberg character after Shamrock to prove he could market a worked shoot fighter better than McMahon could a legitimate one. Goldberg even wears similar ring attire to Shamrock, exhibiting black gloves and trunks. Lodi may be another attempt at Bischoff to show his superiority in the shoot fighter angle as Lodi is the city in California where Shamrock's Lion's Den training facility opened in July 1997. Though the city is not pronounced "Lo-dee," like the wrestler, but "Lo-die," it is spelled the same and is Shamrock's hometown. Ken lived there after being adopted into a boys' home by his foster father, Bob Shamrock. Shamrock often wore shirts promoting the city during his days as an Ultimate Fighting Championship (UFC) competitor. It would not be the first time Bischoff used a jobber's ring name to insult the competition. Both Vincent and V.K. Wallstreet's ring names were taken from Vince McMahon's given name, Vincent Kennedy McMahon.
WCW bills Lodi as being from Pennsylvania. Hailing From..., by DDT Digest's own Wade lists his worked hometown as Philadelphia. Both The Unofficial Lodi Home Page and The Lodi Page register Harrisburg, Pennsylvania, as Lodi's worked hometown. This is probably because many of his angles stem directly from Extreme Championship Wrestling (ECW), which bases itself in Philadelphia. Lodi is actually a North Carolina native and worked the North Carolina independents prior to joining WCW. He graduated from Eastern Randolph High School in Randolph County, North Carolina, and currently resides in Greenville, North Carolina.
Lodi may have originally been trained by George Weing(e)roff. On page 49 of the June 1998 edition of WCW/nWo Magazine, Lodi was asked in a two-question interview: Who influenced you the most to get into wrestling? Lodi responded, "Independent wrestler George Weing(e)roff." Weingroff is the son of son of Saul Weing(e)roff, a heel manager in the Mid-South territory. His greatest success came in the early 1980's as a three-time tag team champion with Lanny Poffo in Angelo Poffo's Kentucky-based I.C.W. promotion. He and Poffo feuded with the Devils' Duo (Jeff Sword/Doug Vines) and the team of "Pistol" Pez Whatley and "Hustler" Rip Rogers. He was later a low-mid card wrestler in World Class Championship Wrestling (WCCW) and the Universal Wrestling Federation (UWF). He was supposedly legally blind, though he could make out shapes and shadows. He wrestled on the first ever WCCW Cotton Bowl card, losing to The Missing Link (10/27/84).
Lodi's bizarre appearance has helped distinguish him as much as his unique signs. Lodi's look has changed since early comparisons to Idol. He added his eccentric trademark goggles at the 12/23/97 Nitro. He also added L-shaped sideburns to further emphasize the Lodi name. The sideburns may or may not be natural as they appeared very quickly. This is not the first time a wrestler has added one of their initials into his appearance as Larry Zbyszko often shaved a Z into his chest hair during his career. Lodi expanded his appearance and his signs in one move at the 02/16/98 Nitro by including body paint. On the 03/16 Nitro, Lodi demonstrated that he could adapt to various situations as while at Club La Vela in Panama City he wore a kid's floating device and a snorkel with swimming goggles.
This look has prompted several RSPW discussions claiming that Lodi and the Flock have homosexual overtones. Much of this stems from widespread rumors that Scott Levy (Raven) is gay in real life and a Bruce Mitchell column in the Pro Wrestling Torch. Mitchell wrote: "Interestingly, the most perverse, unsettling, subversive gimmick in the sport isn't in the WWF or even ECW. It's in WCW, the same promotion that Eric Bischoff claims is toning down on-camera misbehavior. Raven's Nest, to put it bluntly, ought to be renamed Raven's Rough Trade. The clues aren't subtle. This All Male-Revue features Raven, who had the classic butch/fem abusive relationship with Stevie Richards, so much that the Richards character went back to submissively serving Raven after declaring his supposed independence. Raven constantly talks of his alienation and rejection from his parents, without being specific as to the reason. Everyone in the Nest vies for Raven's love. Saturn didn't steal his look from Taz, he took it from Biker Boys magazine. Lodi's look is straight out of every college gay bar in America. Hammer, whose name fits this concept perfectly, comes right from the peep shows. Nice fishnet, too. Billy Kidman has got the Bus Station Runaway look down cold. Why do you think Raven wanted to 'recruit' Scotty Riggs, whose only distinguishing characteristic is he looks like an (American) male model (and Eric Bischoff)? Tellingly, the climactic moment in Raven's courtship came when Raven DDT'd Riggs unconscious, then lamented damaging his face and claimed to feel his 'pain.' Hammer then carried Riggs out lovingly over his shoulder. What did Raven and his boys do to Riggs, exactly, to get him to embrace his true nature? And the Nest doesn't like Chris Benoit because he's simply too straight." Our only response is that Lodi's signs suggests Mitchell is wrong, particularly in his early signs proposing to Courteney Cox and containing his interest in the Nitro Girls.
There is a distinct pattern to Lodi's signs. Lodi and the Flock enter the arena typically in matches that have a low interest level. Thus, they do not take away from a high profile match and can enter early in the card as well. He rarely works the ringside area in more than one match on a given show and it is generally not Raven's bout. This is probably because Raven does not need help getting over. In fact, Lodi often contradicts Raven's in his signs and body paint. This teases dissension as well as provides reason for the rest of the Nest to beat on him. His signs often involve ambiguity, puns and local references. His signs are often used to ignite a response from his opponent or the Flock's adversary. In fact, his matches typically begin with his opponent being infuriated at one of his messages.
Lodi's signs can be very effective as they can add interest to an otherwise dull match. He can also provide filler for an impatient crowd in commercial breaks during live broadcasts. This is one factor that led to the consensus opinion that Lodi is much more potent live. Lodi's messages encompass a vast array of the spectrum that comprises wrestling audiences. Some are so simple that marks find them funny while some take a little more working knowledge of wrestling to comprehend. These appeal to the smarts. Many of his signs probably are personal and perhaps not especially wrestling related, but we have done our best to ascertain a wrestling related message from each sign. Without further ado, here are our interpretations of Lodi's signs:
11/23/97 "This is My Spot." WCW World War III, Auburn Hills, Michigan. Lodi made his WCW debut on this pay-per-view. He held this sign throughout the entire card informing the world that he was replacing Stevie Richards as the Flock's cheerleader. Terry Taylor had first reported Richards' departure only 12 days earlier on the WCW Hotline (11/11/97). Despite only appearing in WCW since 07/07/97, Richards had developed a cult following primarily due to his previous stint in ECW. Richards' abrupt departure made Lodi's debut difficult for many fans to accept. Christopher Bird relayed the general consensus on Lodi's debut, then referred to as "Skank," in his 11/27/97 RSPW post: "Skank seems to be the Stevie Richards replacement. That's like replacing a t-bone with ground hamburger." That is a reference to a reference in that after Charlie Sheen was no longer dating adult movie star Ginger Lynn, his comment about his dating life after her was "It's like going from sirloin to hamburger".
11/24/97 "This is My Spot." WCW Monday Nitro, Saginaw, Michigan. For those fans who missed his debut the previous night on pay-per-view, Lodi brought this introductory sign to Nitro the following night. This was most clearly seen during a Disco Inferno-Randy Savage match. It is appropriate that Lodi's first nationally televised sign appeared during a Disco Inferno match due to harsh criticisms of Disco in later signs. The sign's content stems from Arn Anderson's 08/25/97 retirement speech from Columbia, South Carolina. In his monologue, Anderson told Curt Hennig, "I'm going to give you the only thing I got left. Not a spot. I'll give you my spot." The phrase will live in infamy due to Kevin Nash's re-enactment on the following Nitro (09/01/97). In his discourse, Nash repeated the claim with further emphasis, saying, "Not just a spot, not a liver spot, not a spot like your dog Spot, no not just any spot...but my spot!" He repeated this sentence in the parody and it has become a running joke among wrestling fans.
12/01/97 "Knoxville Sux." WCW Monday Nitro, Knoxville, Tennessee. This is in reference to the city where the card was held. Within the wrestling industry, this is known as "cheap heat" because it is easy to elicit a reaction from a fan whose environment has been either praised or criticized. Lodi generally holds the "cheap heat" sign up first to arouse greater responses for his later signs. In each building, this helps establish his character immediately. This was more necessary in his early appearances to substantiate his character. This sign may have more meaning than most of Lodi's local references. Later in this card, Lodi demonstrated his knowledge of animated television with a reference to South Park. This sign also shows a keen knowledge of cartoon sitcoms as it stems from The Simpsons. In episode "Bart on the Road," which originally aired on 03/31/96, Bart drives Milhouse, Martin and Nelson ("heh heh") to the World's Fair in Knoxville not realizing that the fair was held in 1982. Upon arrival, Bart discovers the only remaining artifact from the fair, the Sunsphere, is now a warehouse for wigs. Ultimately, the Sunsphere tips over on the car. Bart proclaimed, "This place sucks!" Lodi may have been referring to this Bartism. For the most comprehensive Simpson's site on the web, go to http://www.snpp.com/.
12/01/97 "Kidman World Tour 1997." WCW Monday Nitro, Knoxville, Tennessee. Lodi held this throughout the Billy Kidman-Chris Benoit bout to support Kidman. Unlike traditional black Lodi signs, this poster was done in blue and red ink. "Kidman World" was written in blue while "Tour 1997" was in red, perhaps implying that Kidman is representing America during his "world tour." Kidman was the only member of the Flock wrestling this night and Lodi had yet to be named, so it was logical that Lodi promote Kidman. This sign is comical because world tours are typically reserved for the exceptionally successful performers. Kidman was listed at only #202 in the 1997 Pro Wrestling Illustrated (PWI) 500. Including this bout, Kidman had wrestled only ten Nitro matches, losing all ten. The losses were to Steven Regal by submission (06/10/96), Dean Malenko by submission (07/15/96), Juventud Guerrera by pinfall (08/26/96), Rey Misterio, Jr. by pinfall (09/09/96), Malenko by submission (12/02/96), Scotty Riggs by pinfall (01/13/97), Glacier by pinfall (02/03/97), Benoit by submission (03/17/97), Alex Wright by pinfall (10/06/97) and Benoit by submission (12/01/97). Kidman is relatively small (5'10", 206), so his losses would be understandable had he wrestled larger men but by PWI indexes, none of the men weigh more than 247 pounds and their average weight is 210.8 pounds.
12/01/97 "Fear Us." WCW Monday Nitro, Knoxville, Tennessee. Lodi held this sign behind the "Kidman World Tour 1997" sign and displayed it immediately after the match. After Benoit forced Kidman to tap out to the Crippler Crossface, the Flock rushed the ring. Benoit dispatched them until going face-to-face with Hammer. Raven then kicked him in the gut and hit the DDT. Perry Saturn applied his The Rings of Saturn to complete the beating. As the carnage was going on in the ring, Lodi displayed this sign. This was interesting because Lodi did not have a name at the time. During the melee, the commentators said, "Here comes Sick Boy! Here comes another guy!"
12/01/97 "Wake Up Shaska." WCW Monday Nitro, Knoxville, Tennessee. This sign was shown as the camera glanced to Lodi just after Ultimo Dragon entered the ring for his bout. It is one of the few signs Lodi has done completely in blue ink. It also prompted the first of many tirades against Lodi by announcer Tony Schiavone, as he asked, "Will somebody set him down?" The poster is a reference to one of Lodi's WCW Power Plant instructors, Pez Whatley. In 1986 in Jim Crockett's World Championship Wrestling region, "Pistol" Pez Whatley and "The Boogie Woogie Man" Jimmy Valiant were friends until Handsome Jimmy referred to Pez as the "best black" athlete in wrestling. Pez became infuriated due to the racial implications of the claim and turned on Valiant. Pez happened to be carrying a pair of scissors and used them to cut off Handsome Jimmy's beard. Thus Pez became Shaska Whatley and enlisted Paul Jones as his manager. Valiant and Whatley feuded during the Great American Bash Tour in 1986, culminating in Shaska losing his hair in a match to Valiant during the fourth date of the tour in Charlotte, North Carolina (07/05/86). Later, on the thirteenth date of the tour, Jones extracted revenge by defeating Valiant in another hair vs. hair match in Greensboro, North Carolina (07/26/86). Whatley continued to use the name for several years, most notably joining a tag team with Tiger Conway, Jr. that competed as the Jive Tones.
12/01/97 "Marry Me Courteney Cox." WCW Monday Nitro, Knoxville, Tennessee. This is a reference to actress Courteney Cox who has gained great notoriety for her role of Monica Geller in the NBC sitcom "Friends" (1994-present). She used her success in "Friends" to launch into movie stardom in such roles as Melissa Robinson in the 1994 film Ace Ventura: Pet Detective and the role of Gale Weathers in Scream and its sequel, Scream 2. While Cox has had no involvement with wrestling, her co-stars have. Her "Friends" co-star Jennifer Aniston was linked romantically to Rey Misterio, Jr. in a 04/08/97 article in The National Enquirer ("Friends' star Jennifer Aniston Flips for Incredible Hunk!"). The story was planted by WCW and later denied by Aniston. Also, Cox's co-star in Ace Ventura: Pet Detective, Jim Carrey is slated to portray the late wrestler-comedian Andy Kaufman in Man on the Moon, slated for release in 1998. Also, WCW wrestlers Sting and The Giant had minor roles which were edited out of Carrey's film Liar, Liar, which made its U.S. debut on 03/21/97. It is interesting to note that Lodi stopped advertising Cox when WCW Thursday Thunder began airing weekly in direct competition with Cox's "Friends" on 01/08/98.
12/01/97 "I Killed Kenny." WCW Monday Nitro, Knoxville, Tennessee. This is a reference to the animated series "South Park", which debuted on 08/13/97. It airs Wednesday nights on Comedy Central. The character Kenny McCormick (voiced by Matthew Stone) is murdered in each episode and his murderer repeats the tag line conveyed in Lodi's sign. WCW ring announcer Michael Buffer guest starred in an episode titled "Damien," portraying a ring announcer on 02/04/98.
12/15/97 "Black Sabbath." WCW Monday Nitro, Charlotte, North Carolina. Lodi borrowed this sign from a fan. Black Sabbath is a heavy metal band which has existed in some form since 1968. The group is known for lead vocalist Ozzy Osbourne, who left the band in 1979. The group was stable from 1968-1979 featuring bassist Geezer Butler, guitarist Tommy Iommi, Osbourne and drummer Bill Ward. This incarnation re-united for performances at Live-Aid (7/13/85) and had a short jam session in Osbourne's last concert (11/15/92). The group currently consists of Iommi (guitar), Tony Martin (vocalist), Neil Murray (bass), Geoff Nicholls (keyboard) and Cozy Powell (drums). Black Sabbath has influenced wrestling through the Road Warriors. The tag team once used the song "Iron Man," off of Black Sabbath's 1970 Paranoid album as their entrance theme. The song was instrumental in establishing their miscreant image. Today the Warriors are known as LOD 2000 in the WWF and LOD are the first three letters of Lodi. Coincidence? We think not. In addition to being the Road Warriors' anthem, Lodi could relate to Black Sabbath songs "The Sign of the Southern Cross" from Mob Rules (1981), the title track from The Eternal Idol (1987) and especially "Born to Lose" also off The Eternal Idol album. Credit: The Black Sabbath FAQ.
12/15/97 "Feel Our Pain." WCW Monday Nitro, Charlotte, North Carolina. This sign was shown as the camera panned to the Flock during a Steiner Brothers disqualification victory over Konnan and Scott Norton. The phrase in this sign was coined in the midst of a Raven-Scotty Riggs feud earlier in the year. At the climax of the Raven-Riggs bout at World War III (11/23/97), the show Lodi debuted on, Raven DDT'd Riggs three times in a row and between each DDT, said: "Riggs this hurts me much more than it hurts you, I don't want to do this, just join us, I feel your pain." Raven won as Riggs failed to answer a ten count. This expression may also have been used to mock Diamond Dallas Page (DDP), with whom Raven was set to feud. "Feel Our Pain" closely resembles DDP's expression "Feel the Bang!"
12/22/97 "If it is raining, make sure to bring your La Parka." WCW Monday Nitro, Macon, Georgia. Lodi displayed this sign as he made his way to the ring in the middle of the fourth match of the show, which featured La Parka. The bout ended with Rey Misterio, Jr., Juventud Guerrera, and Hector Garza gaining a victory over La Parka, Psychosis, and Silver King when Misterio pinned Silver King with a hurricanrana in a Lucha Libre rules match. The sign is in reference to the English meaning of "parka," which according to Webster's Dictionary is "a hooded pullover for arctic wear."
12/22/97 "-Ma's Wish List (1) A Win (2) More TV Time (3) the Nitro Girls (4) Hair Gel" WCW Monday Nitro, Macon, Georgia. Lodi displayed this sign just prior to the Disco Inferno's television championship defense against the nWo's Curt Hennig. It is speaking of himself more than the competitors involved in the match. It was timely as Christmas was three days after this Nitro taping. It also showed that Lodi is not afraid to mock himself to get a laugh.
12/28/97 "Rings of Saturn" WCW Starrcade 1997, Baltimore, Maryland. Lodi held this sign over a fallen Scotty Riggs after Raven had rendered him unconscious during their bout on the pay-per-view. For further explanation see the listing under the sign for Nitro the following night.
12/29/97 "Rings of Saturn" WCW Monday Nitro, Baltimore, Maryland. This sign was shown just prior to a Raven interview held in conjunction with a Benoit-Hammer bout. It was done in red ink. Saturn did not wrestle on this broadcast, but the sign is in reference to his submission hold, which was created in WCW. Saturn had his WCW tryout prior to the 09/08/97 Nitro in Milwaukee. He defeated Kidman with a top rope maneuver. In doing so, he re-injured his already torn anterior cruciate ligament. He began appearing on camera during the Kidman-Alex Wright match on the 10/06/97 Nitro but did not wrestle for another three weeks. To reduce his chance of injury, WCW created a less risky finishing maneuver for him. Prior to the 10/27/97 Nitro, he defeated J.C. Atlas in a dark match using the Rings of Saturn and set it up with a powerbomb. His television debut occurred on the 11/01/97 edition WCW Saturday Night using the Rings of Saturn to defeat Chavo Guerrero, Jr., though the hold remained unnamed. Two nights later he made his Nitro debut in front of his home crowd at the Core States Spectrum in Philadelphia defeating Disco Inferno for the WCW Television championship. This is where the announcers first referred to the submission hold as the "Rings of Saturn." This name evolved from the sixth planet from the sun, whose rings have perplexed astrologers since Galileo discovered them with the first telescope in 1610. For those interested, NASA's Saturn site specifies, "There are four main ring groups and three more faint, narrow ring groups separated by gaps called divisions."
12/29/97 "Beware the Raven!" WCW Monday Nitro, Baltimore, Maryland. This sign was clearly visible during the match where Bill Goldberg squashed Glacier in a short match with the Jackhammer. It is a play on common "Beware of Dogs" warnings since a raven is also an animal. Ironically, at the time this sign was written, Raven was injured and unable to compete.
01/05/98 "Cheetah, Good Clean Fun." WCW Monday Nitro, Atlanta, Georgia. This sign appeared in a match in which Rick Martel debuted against Brad Armstrong, winning with the Quebec Crab. This is in reference to a popular local strip chain in Atlanta called The Cheetah. We received an abundance of mail regarding this sign. Michael wrote: "There is a strip club in Atlanta called Cheetah's where my bachelor party was held. This could be what Lodi was referring to. I personally would refer to it as "Cheetah, Good, Clean, Expensive, Fun." (Another) Mike commented that the movie setting for Striptease in Las Vegas could have been set in a Cheetah. From other e-mails we have determined that this is a swanky chain of strip clubs based in Atlanta that is extremely popular. There are at least three of these facilities based in Atlanta.
01/05/98 "Lodi Loves Spice"and "Lodi vs. Spice," with a heart around the vs. WCW Monday Nitro, Atlanta, Georgia. Both are references to the Nitro Girl Spice, though the first sign could possibly have a double meaning. In addition to being the name of a Nitro Girl, Spice is also a pay-per-view channel that specializes in soft core pornography. Lodi could have been referring to either in the sign. The sign was most prominently shown during a battle of barbarians as John Nord (formerly Nord the Barbarian) defeated The Barbarian by submission. For the record, Spice is married, so the two should not be an item.
01/05/98 "The Nest Never Loses." WCW Monday Nitro, Atlanta, Georgia. This sign was held during a match where Saturn and Scotty Riggs defeated Benoit and Steve McMichael when Raven interfered hitting his "Evenflow" DDT on Benoit enabling Saturn to gain the pinfall. The word "Nest" was highlighted in red as the rest of the sign was done in black. This was humorous due to the Nest's reputation as glorified jobbers. Ironically, this was the seventh consecutive week that Benoit faced a member of "the Nest" on Nitro and it was only the first time he lost. He had successfully defeated Hammer (12/29/97 and 12/22/97), Riggs (12/15/97), Lodi (12/08/97), Kidman (12/01/97) and Sick Boy (11/24/97).
01/05/98 "Lodi Rulz." WCW Monday Nitro, Atlanta, Georgia. This sign was also shown during the Saturn/Riggs-Benoit/McMichael match. The sign was made more humorous by Bobby Heenan. Heenan commented on Riggs, "Just think about it, Riggs can only read half the sign." Riggs wears an eye patch. Meanwhile Tony Schiavone asked, "Will someone slap Lodi?" Schiavone often ridicules Lodi when he is on camera. It is also interesting to note that Lodi's "rulz" signs may tease dissension towards Raven. All of Raven's matches are held under Raven's rules and this may be referring to the other Flock members having rules of their own. This adds to Lodi's character of being Raven's lackey and also provides some reason as to why he is constantly being beaten by other members of the Flock. Speaking of beatings, at this show, the Flock was involved in an altercation with a fan. Hades of http://www.hadeswrestling.com was in attendance and this is a portion of his report: "Tonight I was live at the Georgia Dome for Monday Nitro. During the vent when Raven's Nest walked out into the crowd a fan put his hands on Raven's chest and shoved him. After that Perry Saturn put the fan in a face lock while Hammer hit him repeatedly in the stomach. Everyone walked off and the fan was left in a puddle of beer bleeding from the nose and lip. He was pretty roughed up. I was sitting two rows back and saw every bit of it. Afterwards a security guard came up and the fan was cussing about the lack of security and then about fifteen officers came over. The fan and his brother were taken from the arena. A few minutes later they were allowed to return only to get the rest of their party."
01/08/98 "Katz Fears Madden." WCW Thursday Thunder, Daytona, Florida. This sign was most clearly visible as Bill Goldberg walked to the ring to face Steve McMichael. Kidman was seen holding the sign making it even more comical because he had his standard blank look on his face in stark contrast to the intense Goldberg. The poster is a reference to WCW hotline personalities Jeff Katz and Mark Madden. The sign's visual imagery is hysterical as Madden is a very large man while Katz is a scrawny teenager. Also, Madden worked as a sports writer for The Pittsburgh Post Gazette prior to obtaining his job in WCW while Katz was hired primarily because he happens to be a neighbor of Eric Bischoff. This has created some animosity towards Katz within the industry due to the difficult time most talent has in receiving an opportunity. Katz was fired at one point from his position on the nWo hotline and the sign suggests that Katz fears a more qualified person. Ironically, it was Madden who was fired several months after this sign aired. He was replaced by Chad Damiani (Deli Boy) on Wednesday and none other than Jeff Katz on Thursdays, which happens to be the day of the week this sign was displayed.
01/08/98 "Kidman World Tour 1998." WCW Thursday Thunder, Daytona, Florida. This sign was done in red ink and was clearly discernible propped up near the Flock as Kidman held the "Katz Fears Madden" sign. The sign was never used on camera in any other capacity as Kidman did not wrestle on the televised portion of Thunder.
01/08/98 "We Hate Daytona." WCW Thursday Thunder, Daytona, Florida. This is a traditional Lodi "cheap heat" sign. This one did not appear on the live telecast. The Daytona 500 was held on 02/15/98 so we do not think that this sign is racing related.
01/08/98 "Please, Shut Up." WCW Thursday Thunder, Daytona, Florida. This was in response to "Lodi Sucks!" chants which commonly reverberate through WCW arenas. Like the last sign, this sign never made its way in front of the camera.
01/12/98 "One Flew Over the Raven's Nest." WCW Monday Nitro. This was shown during a Chris Benoit-Dean Malenko match as the camera man panned to the Flock. On the same Nitro Lodi debuted on (11/24/97), Bobby Heenan compared Raven's Flock to the waiting room in the movie One Flew Over The Cuckoo's Nest during a Buff Bagwell-Benoit bout. The movie premiered on 11/20/75 and won five Oscars in 1976 for Best Actor (Jack Nicholson), Best Actress (Louise Fletcher), Best Director (Milos Forman), Best Picture (Michael Douglas, Saul Zaentz) and Best Writing, Screenplay Adapted From Other Material (Bo Goldman, Lawrence Hauben). The plot of the movie fits Raven's Flock as McMurphy (Nicholson) thinks he can get out of doing work while in prison by pretending to be mad. His scheme backfires when he is sent to a mental asylum. He tries to liven the place up by playing card games and basketball with his fellow inmates, but head nurse Ratched (Fletcher) is after him at every turn. After he organized a party, one of the inmates commits suicide and things start to go badly wrong. Only four days before this sign aired, as the Flock made their entrance on Thunder during a Rick Martel-Louie Spicolli match, Heenan repeated his allusion. He claimed, "Someone left the door open to the Cuckoo's Nest and they're out!"
01/15/98 "Nash Rules, Giant Drools." WCW Thursday Thunder, Lakeland, Florida. This poster was held during the opening segment of Thunder. It appeared in the midst of the Giant-Kevin Nash feud. The feud began when the Giant was injured due to a jackknife powerbomb and intensified when Nash administered a restraining order which ruled that if Giant touched him he would forfeit a bond. Tony Schiavone began interviewing the Giant in the ring when Lodi jumped the guardrail and began walking with this sign, demonstrating his poetic talent which was butchered in many RSPW posts. Giant shredded the sign and chokeslammed Lodi from the apron into the ring. The Flock, without Raven, rushed the ring. Sick Boy was also met with a chokeslam. Hammer was elbowed off the apron and went over the railing and flattened a fan (Hammer could later be seen apologizing to him). Saturn followed with an unsuccessful sleeperhold attempt. Then Kidman attempted a flying body press to no avail. He was caught by Giant and catapulted to Hammer who was still in the crowd. This angle was duplicated from ECW's "November to Remember" pay-per-view when the spot was done by Bam Bam Bigelow throwing Shane Douglas (11/27/97). The mayhem was halted when Kevin Nash came to the ring and began inciting the Giant. Giant, of course, could not touch Nash. Nash threw coffee in Giant's face and followed his adversary to the locker room, yelling in his face the entire way. They cut to commercial starting with a Nash/Giant promo. This feud was heavily hyped and the Flock were innocent bystanders to get the Giant over. The Flock's cameo was totally unnecessary here but it did allow the Giant an offensive sequence without endangering the storyline by touching Nash. Also to sell the powerbomb, Lodi was absent for the remainder of the program, thus this was the only sign he Lodi would get the opportunity to exhibit.
01/19/98 "Benoit Fears Raven." WCW Monday Nitro, New Orleans, Louisiana. Lodi used this sign to incite Benoit during his bout with Marty Jannetty. Benoit still won with the Crippler Crossface. This further hyped the bout between Raven and Benoit five nights later at the WCW/nWo Souled Out II pay-per-view. In addition to adding to the feud, it may also have been meant to contradict Tony Schiavone who often criticizes Lodi. Schiavone has said Benoit "fears no man" and proclaimed him "one of the most fearless men in the history of our sport" due to his jumping the railing and taking on the Flock despite a decided numbers disadvantage.
01/19/98 "Lodi Rulz." WCW Monday Nitro, New Orleans, Louisiana. Following a Chris Benoit-Marty Jannetty bout, the Flock stormed the ring to attack Benoit. Lodi decided to use this time to promote himself so he jumped into the ring with his sign. He did not realize that Jannetty had sided with Benoit and helped him curtail the Flock's efforts. Benoit greeted Lodi with a suplex and a diving headbutt. Benoit stood over the fallen Lodi as the fans cheered. Lodi was sacrificed yet again.
01/22/98 "Martel is a Stooge." WCW Thursday Thunder, Huntsville, Alabama. This appeared during a Rick Martel-Saturn bout and was in reference to an earlier segment in the program when Nick Patrick appeared to be getting some interview time, but was interrupted by Rick Martel's arrival at the arena. Martel apologized for the interruption when Kidman confronted Martel about his role in ending Saturn's television title reign. Kidman said, "Stooge. If it wasn't for you Perry would be the TV champion. Stooge...You are a stooge." Saturn then arrived to put Martel's head through a glass door. Security was arriving as the show went to commercial. This was Lodi's way of adding insult to injury to Martel. He also may have been antagonizing Kidman for the limited vocabulary he displayed in this angle. The angle would have worked extremely well had Martel not returned unscathed for his match. Perhaps, this makes Martel more of a "stooge." The most famous stooges, The Three Stooges, often pulled violent pranks without showing great signs of injury. For the record, there has never been a character named "Martel" in any of the Three Stooges' films.
01/24/98 "Flock Equals Ratings", "Shut Up", and "Benoit, It Is Over." WCW/nWo Souled Out II, Dayton, Ohio. These are two rare cases where Lodi allowed fellow Flock members to hold signs. Kidman had the first sign while Riggs held the second one. Lodi, of course, held the last sign. This was prior to the Raven-Benoit bout. Benoit won with the Crippler Crossface submission. Each of these signs displayed a common function of Lodi signs. The first promoted the Flock, the second antagonized the fans and the third incited the Nest's rival.
01/26/98 "We Hate Ft. Wayne." WCW Monday Nitro, Fort Wayne, Indiana. This of course is another "cheap heat" poster to rile the local Fort Wayne crowd.
01/26/98 "Kidman, the Real Luchador." WCW Monday Nitro, Fort Wayne, Indiana. This sign was on camera during Chavo Guerrero Jr.-Psychosis match and was humorous because they are true luchadors. Many people assumed Lodi misspelled the word "luchador" in this sign. We will post a previous RSPW discussion that clears the issue up regarding luchador and its plural. Doug Roussel made the original post on 08/04/97: "Call them 'luchadors' since they're all males. 'Luchadores' are female. Most of the Romance languages (if not all) denote gender by adding an 'e' to the end of nouns and adjectives when referring to females. Alfredo corrected him in his 08/04/97 post: "However, in Spanish the feminine ending is 'a.' In this case, the singular is 'luchador,' the plural is 'luchadores.' If we were talking about female wrestlers, it would be 'luchadora' or 'luchadoras' (sing. & pl., resp.)." The final word was given by Jeff Amdur on 08/05/97: "Flawed grammar here. Adding 'e' to a French noun or adjective is the equivalent of adding 'a' (or changing the 'o' to an 'a') to a Spanish one. Juan is a guy, Juana is a girl. A guy is norteamericano, a girl is norteamericana. Then again, both guys and girls would be 'canadiense.' If a noun or adjective ends in a consonant in Spanish, the plural is formed by adding 'es'. 'Luchadores' would refer to males or a mixed group. An all-female group would be called 'luchadoras.'" Lodi was right all along.
01/26/98 "Lodi Rulz" and "Riggs Rulz." WCW Monday Nitro, Fort Wayne, Indiana. These signs are in reference to Flock members Lodi and Scotty Riggs. It is interesting to note that Lodi never uses Saturn or Raven in his "rulz" signs, only wrestlers who seldom win. The letters in "rulz" can be rearranged to read "luzr," which would sound like "loser."
01/26/98 "The Revolution Has Begun." WCW Monday Nitro, Fort Wayne, Indiana. This sign was shown during a Raven-Mortis bout. This sign could be in reference to the change in fan reaction since he replaced Stevie Richards. Lodi was beginning to get over by this time. By rearranging the letters in the sign, you can derive "Ug, Loon B the nu Stevie R. Ha!" as if to say that Lodi now laughs at the fan's original reaction to him.
01/26/98 "Shut Up." WCW Monday Nitro, Fort Wayne, Indiana. Lodi used this same sign two nights earlier at the Souled Out IIpay-per-view, but it was not nearly as memorable as this incident. Raven was giving one of his usual monologues. Lodi chose this time to raise his "Shut Up" sign. Though this sign was probably directed at the audience but it appeared as though it was meant to quiet Raven. This further added to the angle that Lodi is the least respected Flock member and added a great deal of humor as well. Lodi's "Shut Up" signs involving Lodi are more effective when considering he is not given the opportunity to speak in interviews.
01/26/98 "Rings of Saturn." WCW Monday Nitro, Fort Wayne, Indiana. This is another reference to Perry Saturn's finishing hold, a variation of a double chicken-wing submission. For further explanation, see the note on the 12/29/97 Nitro. In this instance, the sign was used to promote Saturn as he battled Booker T.
01/26/98 "Beware the Compton Concussion." WCW Monday Nitro, Fort Wayne, Indiana. This sign was held during the tenth match of the program in which Booker T defeated Saturn by disqualification. It is an allusion to Booker's finishing hold, the Harlem Hangover. Lodi referred to it as the "Compton Concussion" because Compton is the stereotypical African-American portion of Los Angeles while Harlem is its New York equivalent. This may be a jab at WCW for giving Booker a stereotypical African-American hometown when he actually graduated from Jack Yates High School in Houston, Texas.
Go to Part 2 (of 3)...
---