DVD Review: Born To Controversy - The Roddy Piper Story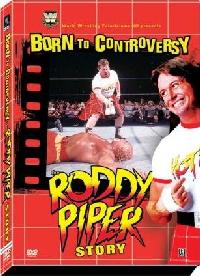 In short, a very entertaining DVD. I've never been the world's biggest Roddy Piper fan, but the 90-minute biopic feature definitely held my interest the entire time. The interview segments with Piper's contemporaries were very well done. Other than Bruce Prichard and Piper himself, no one particular person got a lot of screen time, but they were all good segments. As for Piper, it's interesting how in some interview clips he is frenetic, and in others he is laid back.
I liked that fact that as far as I can tell, all of his really high-profile matches are included in the DVD set. Most notably, the infamous dog collar match against Greg Valentine at Starrcade 1983 and all of Piper's big Wrestlemania appearances are there.
Watching Piper's matches convinces me that he was the first "'tweener". As a heel, he would do babyface moves, which no heels were doing in the early 1980s. For example, reversing a head slam into the turnbuckle. Sometimes, people will posit that The Four Horsemen are the first 'tweeners, but I think that Piper was first, and the Horsemen weren't really 'tweeners. The Horsemen were heels that worked really hard and thus got respect from the fans, but they didn't ever do babyface moves.
It's funny to compare this to the Coliseum Home Video videotapes from the 1980s. I remember watching a WWF-produced videotape with Roddy Piper as the subject from back then, and it was night and day difference. That videotape was totally about his WWF career, and Piper was in character the entire time. He even interviewed himself on the tape.
Some other notable things about this DVD:
The professional enmity between Piper and Hulk Hogan is quite apparent on the DVD. Also, Piper's extreme dislike for Mister T is quite apparent.
There is very good selection of his best matches on the 3-disc set, and Disk 3 is totally Piper's Pit segments.
In the match where Piper is wrestling Jack Brisco, I couldn't get past thinking that it looked like Piper was wrestling Chico Marx.
As for Piper's match with the Mountie, it just goes to prove the adage that if you're the champion and you're introduced and brought to the ring before the challenger, odds are that you're not going home with the belt that night.
The best story in the Extras is the Wrestlers And Their Ribs story.
As for Piper's match with Bret Hart, I'd forgotten how many moves Gorilla calls by the wrong name when he's doing commentary for a match.
Piper was right...his Wrestlemania match with Bad News Brown really did stink.
There were definitely a few things I did not like about the DVD:
Maybe I'm getting overly jaded, but I definitely felt like I was being worked on a number of the stories. While the stories about Mister T and "Piper's Paunch" seemed legitimate, I have a hard time believing that the Jimmy Snuka and Morton Downey incidents were as unscripted as you are led to believe. Also, he mentions that Bret Hart is the only person to pin him in 17 years in the WWF. I've heard him say that before, and I saw Ric Flair pin him at a house show.
Piper won't say anything about his childhood or what caused him to leave home at 13 years old. No mention of his parents or brothers and sisters at all. Obviously, it's painful for him to talk about, so he doesn't do it. However, when you are selling a "life story", one can make the case that the paying customer is owed something there.
This is a personal dislike...Piper does talk about some of the things that happened in his career that really fell flat, such as his King Of The Ring match with Jerry Lawler, his Wrestlemania match with Bad News Brown, and his hitting Rikishi with a coconut. I was very disappointed that there was no mention of the "Piper's Family" debacle in WCW.
The price of this on Amazon is $9.49, and it's eligible for Super Saver Shipping. I was able to get it from the $5 DVD bin in Wal-Mart. If you're someone who was a big WWF fan in the 1980s and/or you are a big Roddy Piper fan, this is worth your time and money (especially if you can get it for $5), subject to the caveats noted above. And, on a comical note, I should admit that as a result of watching this DVD, I did put the movie They Live on my Amazon wish list.
---