Recommended Wrestling Reading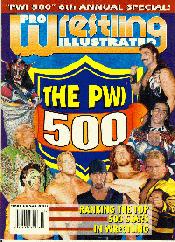 Pro Wrestling Illustrated (London Publishing Company) - This monthly periodical is, by far, the best wrestling publication on the newsstands. The reports are as timely as you are going to get in a monthly publication and there is a lot of behind-the-scenes news. It has an edge that no magazine published by a particular promotion will have. My favorite section is The Wrestling Enquirer which keeps you informed of all of the real-life legal troubles that pro wrestlers have a tendency to get into. And, unlike some other wrestling publications, the articles are actually well written without spelling or grammatical errors. While I also wholeheartedly recommend PWI's sister publications, The Wrestler and Inside Wrestling, also by London Publishing Company, PWI is the magazine to get if you are only going to get one.
---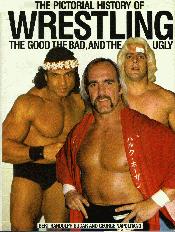 The Pictorial History of Wrestling - The Good, The Bad, and The Ugly (Bert Randolph Sugar and George Napolitano) - This coffee table book, published in 1984, is a who's who of professional wrestling. It gives great background of the personal and professional history of all of the top name wrestlers at the time of publication. Buy it soon, because with each passing year, many of the great wrestlers in this book disappear from the scene, such as "Killer" Tim Brooks and Ivan Koloff. However, this book gives a great insight into wrestling before it became "family entertainment".
---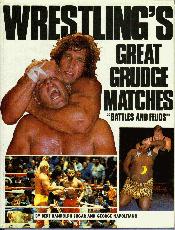 Wrestling's Great Grudge Matches - "Battles and Feuds" (Bert Randolph Sugar and George Napolitano) - Like The Pictorial History of Wrestling, this book is getting more dated with each passing year. However, it gives great insight into the titanic battles that made legends out of many of today's "old-timers", such as Ric Flair, Harley Race, and the late Bruiser Brody.
---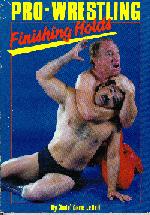 Pro-Wrestling Finishing Holds ('Judo' Gene LeBell) - This great book demonstrates the effectiveness and application of professional wrestling submission holds when used for real. When I was in college, we used to take turns trying them on one another. For those of you who don't know 'Judo' Gene LeBell, long before Hulk Hogan he was one of the earliest professional wrestlers to go "mainstream". Anytime you saw a skit or feature on pro wrestling in the 1960's, such as on the Jack Benny show, Gene was usually involved. Recently, I was watching The Beverly Hillbillies and it was the episode where Granny became a women's wrestling champion. Lo and behold, the referee was Gene LeBell. The best quote from the book is in the chapter Some of the Best Illegal Holds in the World:
"Some wrestlers might say that you have four units to attack with: two arms and two legs. Some wrestlers might say that you have five units: two arms, two legs and your forehead to headbutt. I say you've got six units of attack: two hands, two legs, your forehead and your teeth."
---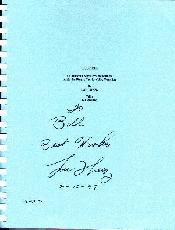 HOOKER: An Authentic Wrestler's Adventures Inside the Bizarre World of Pro Wrestling By Lou Thesz with Kit Bauman - In short, this is a fantastic book! If you have any interest at all in the history of pro wrestling and/or Lou Thesz' career, this is the place to go. Lou traces the history of pro wrestling back to the days when if first became "fake". He then starts relating the experiences of his own life and his life in the squared circle. For those of you who may not know, Lou is a six-time NWA Heavyweight Champion, holding the belt for a record total of 18 years.
Fans of today (including myself) forget what a dirty, thieving, low budget business wrestling used to be before the days of Ted Turner. Lou brings it all to life. He doesn't mince words. (If you are a fan of Antonino Rocca, you are in for a rude awakening. If you are a fan of Baron Michele Leone, you are in for a good laugh.) Once you get past the wrestling history and Lou starts telling the tales of his adventures, you feel as if he's in the room with you telling the stories. You feel as if you know him when you are done with the book.
So, if this type of reading appeals to you, this book is an emphatic two thumbs up. If you want to find out more about Lou, read excerpts from his book, and/or order a copy, check out the official Lou Thesz Web Site.
[Note that, as stated at his site, if you are ordering the book, you are actually ordering a manuscript. It's not bound like a regular book, it's more like a notebook. However, it will be autographed to you by Lou. It arrived at my house no more than a week after I ordered it.]
---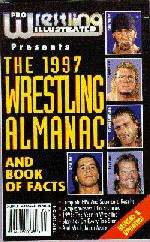 Pro Wrestling Illustrated Presents The 1997 Wrestling Almanac and Book of Facts - This book is a steal for $4.95. It has everything: The Ten Biggest News Stories of 1996, 1996: The Year In Wrestling, PWI Weekly Honors, Statistics For Professional Wrestlers, PWI Achievement Awards, The PWI 500 through its history, Title Histories for all active and inactive titles, and much more! It is the pro wrestling fan's statistical bible. I really couldn't believe it was only five bucks. If you want to get it via mail order, send $7 (which includes postage and handling) to:

London Publishing Company
P.O. Box 910
Fort Washington, PA 19034

Note that London Publishing Company regularly runs specials that include the almanac with a subscription. So, if you are not already a subscriber, you may want to just subscribe and get the almanac for free.
---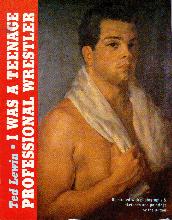 I Was A Teenage Professional Wrestler By Ted Lewin - This book is written by Ted Lewin, brother of Mark "The Purple Haze" Lewin. I discovered this book on Amazon's web site. This book is odd. It's got a copyright date of 1993, yet everything takes place pretty much in the 1960s. As such, the information is very dated and the book is really written for marks. There are a few interesting tidbits but nothing that really justifies the $13.27 price, especially given that the book is only 120 pages long and uses a huge font. If you can borrow a copy, it's worth a read, but don't waste your money.
---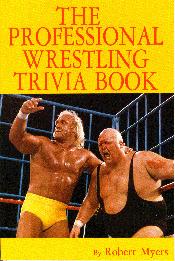 The Professional Wrestling Trivia Book By Robert Myers - Another book I ordered from Amazon, but this was only $6.36. The book contains 500 multiple choice trivia questions. Some of them are good, and very thought provoking. My chief complaint, though, is that the answer page gives the answer but never gives additional information. Overall, it is a fun book although you and a buddy could sit around and fire questions back and forth for the same effect, and spend the $6.36 on a cheap six pack and a couple of Slim Jims.
---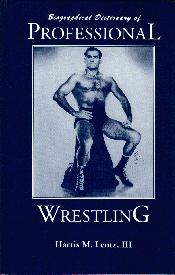 Biographical Dictionary of Professional Wrestling By Harris M. Lentz, III - At the price of $55 (not a typo) from Amazon, my expectations were very high for this book. It has, in alphabetical order, a short bio on professional wrestlers past and present. Although the bios are short, the book is very exhaustive in its list of wrestlers. You probably won't learn too much about wrestlers you already follow, but you will learn a lot about wrestlers that you've heard of but aren't that familiar with. Also, it is helpful in digging up "past lives" of many of today's wrestlers.
It's a decent book and is useful if, like me, you are a self-proclaimed expert on pro wrestling. $55 is a serious chunk of change, but it enables me to look stuff up and look really smart when someone e-mails me a question. A good book for the serious pro wrestling fan; overpriced for the casual fan.
---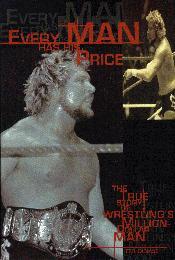 Every Man Has His Price - The True Story of Wrestling's Million Dollar Man by Ted DiBiase - This book has been getting a lot of press since it has just been released. Hot off the presses at $8.79 from Amazon, it is an autobiography of Ted DiBiase. If you are a pro wrestling fan, and a devout Christian, this book is a must read. If you are a pro wrestling fan and not a devout Christian, the book is still enjoyable, but you may find some parts dragging.
As a wrestling fan, you will be fascinated, and saddened, by the true story of the in-ring death of Ted's father and you will also love the true story of how the Million Dollar Man came into being. However, this book is also a testament to Ted DiBiase's faith and religious beliefs. As I said, that part may not be for you, but I found it interesting nonetheless. Even though the book was heavy on the religion, there were some extremely powerful stories of how Ted came to grips with some major crises in his life.
It's a short book, 160 pages and a medium-sized font, and it is enjoyable.
---