DVD Review: They Live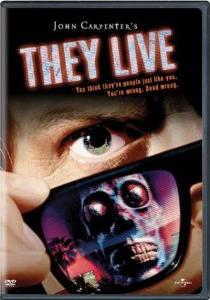 After watching Born To Controversy: The Roddy Piper Story, I got the itch to finally watch They Live.
Bottom line, it's really a fun B-movie. I truly had a good time watching it, especially towards the end, and it blows away any movie with Hulk Hogan in it. It would be a great drive-in movie, as well. As much as you liked, or disliked, the movie Running Man, you'll like, or dislike, this movie just as much. It's that simple. It was not a classic of the genre, such as Terminator or Robocop, but it was as good as Running Man, Total Recall, or Predator.
Items of interest:
It has the "feel" of a real movie, unlike the artificial feel that permeates any movie that the WWE is involved with, like No Holds Barred or The Marine.
The first half hour of the movie was very slow as the conspiracy developed, and things picked up significantly in the final 65 minutes.
It's pretty widely known that the big fight scene between Piper and his sidekick took a few weeks to rehearse. I've heard Piper say in an interview that he and the other guy only pulled punches to the face, and any shots they gave to each other anywhere else were full force. Watching the scene, I find that hard to believe, and I think he was just trying to generate interest with that statement. Not because of a lack of realism...the fight was really cool...rather, they'd have put each other in the hospital if all those blows were real.
There is a line in the movie that's pretty famous, and is often on lists of greatest movie lines ever. If you don't know what it is, I won't spoil it for you here. I found a second quote from the movie, which I thought was really good, and I'm surprised I've never heard it elsewhere. It was "Life's a bitch...and it's in heat". Truth be told, I'm not quite sure exactly what that means, but it sounds cool.
While intellectually I know that Roddy Piper is perfectly capable of dropping the F-bomb, it was still jarring to hear him do it a couple times in the movie.
Arguably, the social commentary of the movie is a bit dated. The commentary is probably more relevant during The Reagan Years than it is now. However, it's still an interesting premise.
Make sure you watch to the very end. While you may think Piper's last moment on screen is the best moment of the movie, the absolute final moment of the movie is better.
The price of this on Amazon is $10.99, and it's eligible for Super Saver Shipping. You can get a version of it combined with some other John Carpenter movies for $14.99, but since I knew there was no way I was ever going to watch any of the other movies, I went for the movie on its own for $10.99. For me, it was worth it, although I would have been smarter to try to wait for it to show up in the $5 bin at Wal-Mart or get it used at Blockbuster.
---